Home
Criminal Defense Attorney
Robert Tayac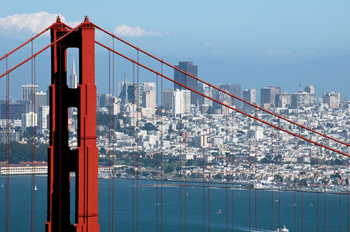 Welcome to the website for San Francisco criminal defense lawyer Robert Tayac. If you, or someone you know and care about, has been arrested anywhere in the San Francisco Bay Area including the counties of San Francisco, Alameda, Contra Costa,  Marin, Napa, San Mateo, Santa Clara, or Sonoma, please read the material in this website on What to do First, Finding Someone in Jail, Pretrial Release, Frequently Asked Questions, and Client Testimonials, then consider calling this office to discuss the matter in complete confidence with an attorney who specializes in San Francisco Bay Area criminal defense cases.
California Criminal Law
California criminal law is complicated. Many criminal arrests initiate more than one case and any San Francisco Bay Area criminal case requires multiple court appearances.
Additionally, anyone arrested in California who holds a professional license (attorneys, physicians, nurses, pilots, stock brokers, teachers, or other professionals) or security clearances (police officers, fire fighters, government employees or government contractors) are at risk of having the agency which issued the professional license or security clearance initiate yet another case which may impact their license or one or more job critical certifications to practice their profession. As well, anyone owning a firearm or required to carry a firearm as part of their professional responsibilities will be barred from possessing any handgun, rifle or shotgun if they are convicted of certain criminal charges.
Not a U.S. Citizen?
Furthermore, if a person is not a citizen of the United States, conviction of a criminal offense in San Francisco or any California county creates the risk of deportation, denial of naturalization, exclusion from admission or readmission to the United States, denial of the issuance or extension of an H-1B Visa which allows non-United States citizens to work in this country, or denial of an upgrade of status with the immigration authorities.
This law office specializes in representing people who have been accused of crimes in San Francisco and the surrounding Bay Area counties of San Francisco, Alameda, Contra Costa,  Marin, Napa, San Mateo, Santa Clara, and Sonoma.
Robert Tayac
Robert Tayac is committed to helping his clients win their criminal cases or minimize the impact when winning is unlikely or prohibitively expensive. He is a graduate of Boalt Hall School of Law and a member of the professional organizations whose focus is related to helping those accused of criminal offenses in California, including the National Association of Criminal Defense Lawyers (NACDL), California Attorneys for Criminal Justice (CACJ), California Public Defenders Association (CPDA), and California DUI Lawyers' Association.
As well, Mr. Tayac coauthored the Fourth Edition of California Drunk Driving Defense, which is has been cited by the California Supreme Court and is the basic textbook for attorneys who represent people accused of driving under the influence in California.